Seychelles gets first ambassador from South Sudan
Seychelles has started a new chapter in its relations with South Sudan with the accreditation of the country's first ambassador to the island nation. Philip Jada Natana is the first South Sudan ambassador to Seychelles. He presented his letter of accreditation to Seychelles' President Danny (...)
[Seychelles News Agency] 29/03/2017
'Government racket behind deadly South Kordofan attack': SPLM-N
Government forces were behind an attack during which seven herders were killed and robbed of their cattle in South Kordofan last month, according to investigations by the opposition Sudan People's Liberation Movement-North (SPLM-N).
[Dabanga] 29/03/2017
UN report: Hundreds of children recruited by rebels, Sudan army
A new report by the UN Secretary-General details the deep impact of armed conflict on children in Sudan. It is the first report on children and armed conflict in the country published since the secession of South Sudan, and since the start of hostilities in South Kordofan and Blue Nile (...)
[Dabanga] 28/03/2017
Kenya: Rights body decries arbitrary detention in South Sudan
Nairobi, Kenya (PANA) - South Sudanese authorities must release all people detained without charge by the security agencies, including 28 men currently held at the headquarters of the national intelligence agency in the capital, Juba, Amnesty International demanded on Tuesday. (...)
[Panapress] 28/03/2017
Sudan's al-Bashir to attend Jordan summit despite warrant
President al-Bashir will attend Wednesday's Arab Summit in Jordan, despite a long-standing warrant for his arrest by the International Criminal Court.
[IOL] 27/03/2017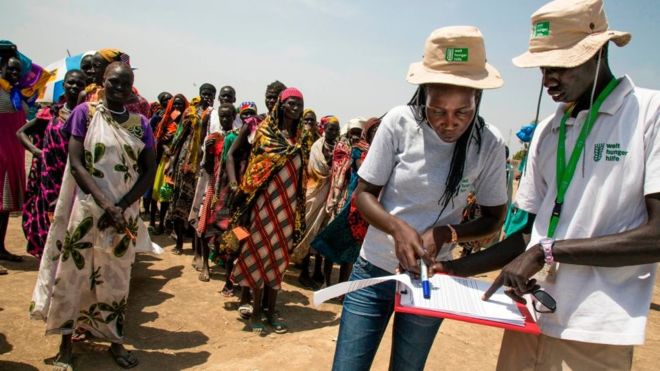 South Sudan attack 'could hinder aid deliveries'
Aid agencies say the "shocking" killing of six aid workers in South Sudan on Saturday is causing them to re-assess how and when they can deliver supplies. The victims were ambushed by unknown attackers when travelling between Juba and the town of Pibor to the northwest. Oxfam said the attack (...)
[Citi97.3fm] 27/03/2017
Sudan: BADEA, ISESCO sign MOUs on technical assistance
Khartoum, Sudan (PANA) - The Arab Bank for Economic Development in Africa (BADEA) and the Islamic Educational, Scientific and Cultural Organization (ISESCO) have signed two Memorandums of of Understanding (MoUs) on education and provision of equipment for women. (...)
[Panapress] 27/03/2017
South Sudan: Salva Kiir Is Ignoring Famine - UN Chief
[Al Jazeera] UN Secretary General Antonio Guterres has accused South Sudan's government of ignoring the plight of 100,000 people suffering from famine , 7.5 million in need of humanitarian aid and thousands more fleeing fighting (...)
[AllAfrica] 25/03/2017
Uganda Hailed on Prisoners of War as Museveni, Sudan VP Discuss Refugee Crisis
President Omar al-Bashir of Sudan has hailed President Yoweri Museveni's peace efforts in Sudan following the safe release and handover of 125 Prisoners of war... (Read More)
[ChimpReports] 25/03/2017
U.S. Warns South Sudan Govt Against 'Deliberate Starvation Tactics'
BY MICHELLE NICHOLS | REUTERS The United States warned South Sudan's government on Thursday that preventing humanitarian aid workers from reaching parts of the war-torn state that are suffering famine could "amount to deliberate starvation tactics." A civil war erupted in 2013 when President (...)
[TesfaNews] 24/03/2017
Sudan bars Egyptian Islamist from entering the country
March 23, 2017 (KHARTOUM) - Sudanese security authorities Thursday prevented an Egyptian Islamist from entering the country to participate in the general conference of the opposition Popular Congress Party (PCP). Abdel-Moneim Aboul-Fotouh was stopped by the Sudanese security agents upon his (...)
[Sudan Tribune] 24/03/2017
Uganda: UNHCR calls for urgent support for S. Sudan refugees
March 23, 2017 (ADJUMANI) – The United Nations refugee assistance efforts in Uganda are seriously overstretched as thousands of refugees from South Sudan, desperate for safety and assistance, pour into the country that is already hosting more than 800,000 people, a top official warned. "We are (...)
[Sudan Tribune] 24/03/2017
South Sudan army denies death of chief of general staff
March 23, 2017 (JUBA)- The command of the Sudan People's Liberation Army (SPLA), the official army of South Sudan, has dismissed rumours on social media claiming that the chief of General staff, Paul Malong Awan has died.. "This is just fake propaganda by the anti-peace elements. It is not (...)
[Sudan Tribune] 24/03/2017
U.N chief says South Sudan government ignoring famine
March 23, 2017 (JUBA) – The United Nations Secretary-General, Antonio Guterres has accused South Sudan government of showing less concerns about the estimated 100,000 people suffering from famine. 7.5 million people, aid agencies say, are in need of humanitarian assistance and thousands flee (...)
[Sudan Tribune] 24/03/2017
Rwanda to Deploy Sixth Peacekeeping Police Contingent
Rwanda National Police (RNP) is set to increase its participation in United Nations peacekeeping missions when they deploy the sixth Formed Police Unit (FPU) to serve under the UN Mission in South Sudan early next month. According to Assistant Commissioner (...)
[Rwanda Eye] 24/03/2017
Sudan FM calls on Juba to implement agreement reached with FVP Gai
March 23, 2017 (KHARTOUM) - Sudanese Foreign Minister Ibrahim Ghandour has urged the South Sudanese government to implement what has been agreed with First Vice President Taban Deng Gai last year. Ghandour made his call during a meeting with the South Sudanese Ambassador to Khartoum Mayan Dut (...)
[Sudan Tribune] 24/03/2017
U.N. peacekeeping chief urges political solution to S. Sudan crisis
March 23, 2017 (JUBA) – The United Nations peacekeeping chief, Herve Ladsous has described the security situation in South Sudan as "very worrisome," and called for a political solution to the hostilities. "You cannot hope that a solution will come by the use of weapons, the solution has to be (...)
[Sudan Tribune] 24/03/2017
Lawyer says Sudanese rights defender still awaiting trial
March 23, 2017 (KHARTOUM) - The lawyer of the detained human rights defender Mudawi Ibrahim Thursday complained that his client is still in prison without charge since three months, and renewed calls to free or to try him. Nabil Adib, told Sudan Tribune, said that he met with Ibrahim two days (...)
[Sudan Tribune] 24/03/2017
S. Sudan President appeals for global support to national dialogue
March 23, 2017 (JUBA) – In a meeting with the German Special Envoy to Sudan and South Sudan Rolf Welberts on Thursday, the South Sudanese President, Salva Kiir appealed for global support for South Sudan's national dialogue. President Kiir met with Ambassador Rolf Welberts at the presidential (...)
[Sudan Tribune] 24/03/2017
US warns South Sudan over "deliberate starvation tactics"
New York/Juba, March 23, 2017 (SSNA) — The United States has warned South Sudanese government over what it described as "deliberate starvation tactics," saying Juba is deliberately preventing humanitarian organizations to reach famine-hit areas. Deputy US Ambassador to the United Nations Michele (...)
[South Sudan News Agency] 24/03/2017
South Sudan tops list of world's suffering nations
Juba, March 23, 2017 (SSNA) — In a survey released Thursday, the Republic South Sudan has been ranked as the top country in term of suffering. The finding adds yet another negative imprint on the violence-ravaged young nation. In its 2017 World Happiness report, the US-based Gallup, Inc, places (...)
[South Sudan News Agency] 23/03/2017
War at the Root of Hunger
By Pascal Cuttat The recent statement by the United Nations on the humanitarian crises affecting Yemen, Somalia, South Sudan and Nigeria is significant and timely. Substantial resources need to be allocated immediately in order to avert a further spiraling (...)
[Rwanda Eye] 23/03/2017