Ghana: Women in Ghana Pay a Heavy Social Price for Not Having Children
[The Conversation Africa] The number of children a woman of reproductive age bears has been declining globally. Yet childbearing expectations in some parts of Africa remain high. In Ghana, for example, the total fertility rate - the average number of children expected per woman over a lifetime (...)
[AllAfrica] 29/03/2017
Stop habits that reduce productivity – Prez Akufo-Addo – Graphic Online
Graphic Online Stop habits that reduce productivity - Prez Akufo-Addo Graphic Online President Nana Addo Dankwa Akufo-Addo (2nd left) interacting with Dr Yaw Osei Adutwum (left), a deputy Education Minister designate, during the conference in Accra. Those with them include Most Rev. Titus Kwesi (...)
[Nigeria Today] 28/03/2017
Judge recuses himself from $2m fraud case
An Accra high court judge handling a case involving an Accra-based lawyer, Charles Opoku Yeboah and another over an alleged $2 million estate fraud, on Thursday recused himself from the case.
[Joy Online] 27/03/2017
Chinese illegal miners to reappear in court on April 10
The Chinese illegal miners and their Ghanaian accomplices who were arrested on River Ankobra in the Western Region last Friday, appeared at the Sekondi High Court on Monday [March 27th 2017], where they were remanded into police custody to reappear on April 10, 2017. The accused miners were (...)
[Citi97.3fm] 27/03/2017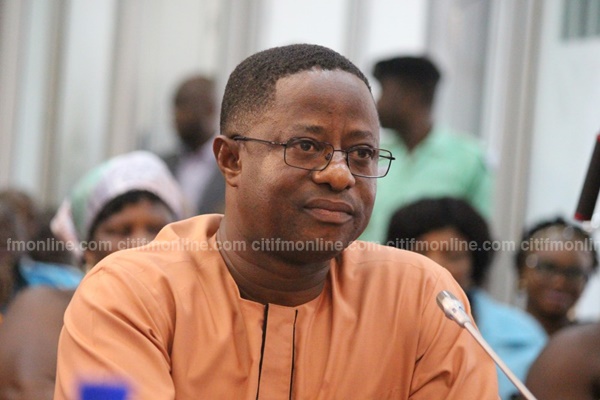 Amewu begs China to stop Chinese 'galamsey' operators
Ghana is practically begging China to help in the fight against Chinese nationals who are contributing to the destruction of its environment through illegal mining, popularly known as galamsey. The Minister of Lands and Natural Resources, John Peter Amewu, today [Monday], held an emergency (...)
[Citi97.3fm] 27/03/2017
Reduction in policy rate long overdue- Economist
Economist, and Head of Finance Department at the University of Ghana Business School, Professor Godfred Bokpin has criticized the Bank of Ghana for delaying in announcing a reduction in the policy rate. The Monetary Policy Committee of the Bank of Ghana today [27/3/2017] reduced the policy rate (...)
[Citi97.3fm] 27/03/2017
Hilderman Ex-Manager Smitten With Essien
Hilderman Ex-Manager Smitten With Essien Singer Hilderman's former manager Yvone Nasinguza will forever remember last weekend, because it was the day she met football superstar Michael Essien. The sexy light-skinned babe was so star-struck upon meeting the ex-Chelsea and Ghana international that (...)
[Redpepper] 27/03/2017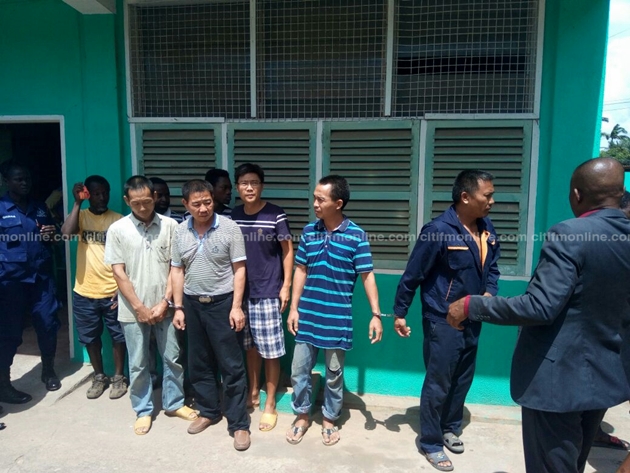 Chinese illegal miners case moved to circuit court
The case involving the five Chinese nationals and their five Ghanaian accomplices who were arrested for illegal mining, have been transferred from the Sekondi Magistrate Court to the Sekondi Circuit Court. The illegal miners were arrested on March 24, 2017, in a swoop by the Criminal (...)
[Citi97.3fm] 27/03/2017
Galamsey: Time for ordinary people to act
Campaign Coordinator of Integrated Social Development Centre (ISODEC) Dr. Steve Manteaw, says it is time for ordinary Ghanaians to take up the fight against illegal mining, popularly known as 'galamsey'.
[Joy Online] 27/03/2017
Akufo-Addo is over-stepping bounds for Ghana's doom
By Dr. Michael J.K. Bokor Sunday, March. 26, 2017 Folks, news reports that the Ashanti Regional Security Coordinator (Mr. Agyei) was attacked by about 200 members of a pro-New Patriotic Party group known as "Delta Force" on Friday are alarming for several reasons. Why? Because it raises very (...)
[Vibe Ghana] 26/03/2017
Galamsey makes me lose faith in Ghana - Baako
Editor-In-Chief of the New Crusading Guide newspaper, Abdul Malik Kweku Baako says he is losing faith in the nation because of successive governments' failure to stop 'galamsey'.
[Joy Online] 25/03/2017
Akua Donkor robber's case adjourned to March 27
The Accra Circuit Court hearing the case involving four persons who allegedly robbed Madam Akua Donkor, founder of the Ghana Freedom Party, has adjourned the case to March 27.
[Joy Online] 25/03/2017
Ghana to get new Automobile Technical School
American Auto Parts Limited in partnership with TATA Motors Holdings Ghana, is to establish an Automobile Technical Institute to train artisans and mechanics in industrial best practices.
[Joy Online] 25/03/2017
Ghana records increasing Multi Resistant Tuberculosis cases
It is disturbing Ghana is currently recording 640 new cases per year in a new form of tuberculosis cases. That's according to the Chairman for the Wealth Health Organization Child Tuberculosis Task force, Dr. Anthony Enimil who describes it as (...)
[Joy Online] 24/03/2017
West Africa: Ecowas Satellite to Monitor Fisheries Resources
[Ghana Star] The Economic Community of West African States (ECOWAS) has commissioned an earth observation data receiving satellite in Accra as part of measures to ensure sustainable use of fisheries resources in the sub-region.
[AllAfrica] 24/03/2017
Ghana: London Terror Sparks Call For Better MP Protection
[Ghana Star] The terror attack at the British Parliament on Wednesday, has seen some Members of Ghana's Parliament revive the debate of the security of Ghana's legislature, with the Chairman of Parliament's Foreign Affairs Committee, Patrick Boamah, saying MPs are vulnerable in (...)
[AllAfrica] 24/03/2017
Lexis Bill walks for oral health
Host of Joy FM's Drive Time programme and popular media personality and radio broadcaster, Lexis Bill, joined 150 Unilever Ghana employees and families, for an educational walk up the Aburi hills to raise awareness for World Oral Health (...)
[Joy Online] 23/03/2017
At 93, Mugabe remains a jet-setter
President Robert Mugabe has visited Singapore, Ghana, Swaziland and Mauritius in the past three weeks. At times he stops over in Harare for just a night before leaving again.
[IOL] 23/03/2017